BIO:
JOB TITLE AND RESPONSIBILITIES: Primary photographer for the Secretary of Veterans Affairs. Responsible for photographing the Secretary's significant events as well as documenting leadership activities for a variety of uses.
VA LOCATION: Washington, D.C.
MILITARY BACKGROUND: Served in the U.S. Army's 5th and 3rd Infantry Divisions from 1981-1983
HOMETOWN: Born and Raised in Rio Linda, California
A VA photographer, this Veteran gets the picture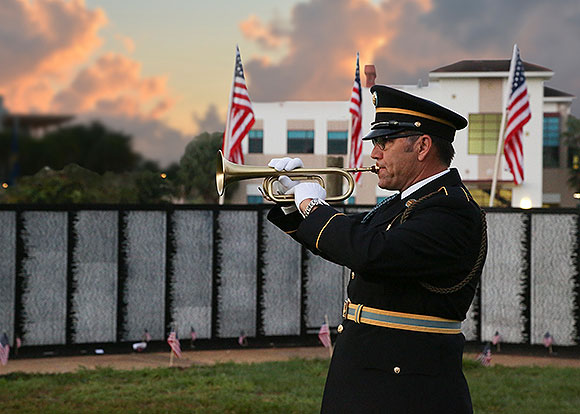 A trumpeter who often plays at Veteran events in his spare time, VACO photographer and Army Veteran Gene Russell sounds taps at the Vietnam Memorial Traveling Wall in South Florida at the Florida Atlantic University Jupiter campus in 2015. (Photo courtesy Eugene Russell)
---
rmy Veteran and VA photographer Eugene "Gene" Russell says working for Veterans, on and off the job, is his way of continuing to serve his country.
HOW THE VETERAN EMPLOYMENT SERVICES OFFICE SUPPORTED HIS HIRING PROCESS
"When I started my path to VA, I had no idea VA had photographers; I only wanted to serve. The VESO [employment specialist] showed me how my service-connected disability could be leveraged and used as part of my résumé."
PAST PROFESSION, AND HOW HE MADE THE TRANSITION TO VA
"I owned a portrait studio in Nevada since 1984, where I lived for 20 years. I was then hired as a photographer at West Palm Beach VA Medical Center in Florida. From 2014 to 2015, I noticed VA was being lashed in the news. I knew there were positive stories and I wanted to help tell those stories about the men and women who worked for VA. As a disabled Army Veteran, I have been a patient of the VA health-care system. You can complain about the system or get in and make a positive change, so I transitioned [from being a small-business owner] to working as a photographer for the West Palm Beach VA Medical Center. During my interview, I was asked why I wanted to work for VA. I told the interviewer, "Ever since I left the Army, I've been looking for a place to continue serving my country. This is that place."
MOST REWARDING PART OF HIS JOB
"Working in the nation's capital under the Secretary of the VA, I am still making a difference. I work with other Vets daily here at VA. My first assignment in D.C. was a Vietnam Veteran event, riding with a Veteran who was [given a commemorative pin] by the Secretary. I carry a coin from the 5th Infantry Division that was given to me by my real-life hero Col. Herbert Lloyd, my former battalion commander. The coin is a positive trigger reminding me of my duty—to serve others. Similar to the oath I took while in uniform, there's something amazing about standing in a crowd of guys raising your right hand, taking an oath to protect and serve. On March 21, I got to do it here at VACO. The words were slightly different, but they meant the exact thing to me."
ADVICE FOR OTHER VETERANS SEEKING CAREERS AT VA
"The employment possibilities are endless here at the VA. Seek a career path or volunteer. Use your military expertise combined with your civilian skillset to make a difference. I can promise you, the rewards will come back to you tenfold."
---
For VESO, a hire calling
Media Services' Carmen Cordoba discusses how the Veteran Employment Services Office (VESO) helped her find the right employee. Read more »
---
For more information on the services provided by VESO, please contact us at 1-855-824-8387.
+ Required plugins [ Get Viewer Software ]