Mr. James Symanski
Program Manager
VA Central Office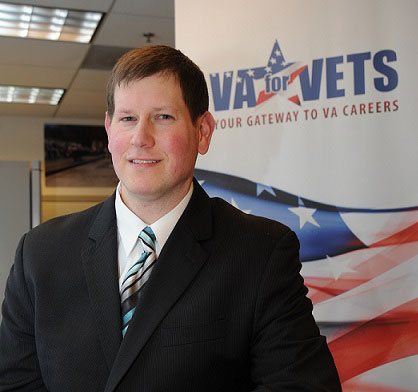 Mr. James Symanski, a U.S. Army and Iraq War Veteran, has been employed with the U.S. Department of Veterans Affairs' (VA) Office of Construction & Facilities Management (CFM) for nearly three years. During that time, he has demonstrated exceptional leadership as CFM's Sustainable Design Program Manager.
He is a graduate of the United States Military Academy, holds Masters Degrees in Civil Engineering and Business, and is a registered Professional Engineer (P.E.), Certified Energy Manager (CEM), and Leadership in Energy and Environmental Design Accredited Professional (LEED AP).
Mr. Symanski has worked tirelessly to integrate sustainability into VA's design and construction programs, helping to improve the sustainability of VA's facilities.
Mr. Symanski attended a VA for Vets job fair in Washington, DC: "When I attended the job fair, I participated in several interviews. None of the jobs seemed to be a good fit, though".
"But, little did I know, one of VA's recruiters took my resume back and shared it with management in the Office of Construction and Facilities Management (CFM). One of the Directors in CFM felt I had exactly the right skill set for a position they were trying to fill. He called me up and explained the job he was trying to fill. It was exactly - and I really do mean "exactly" - my dream job. I went in for an interview and was shortly thereafter offered the job".
"Now, three years later, I am incredibly happy in my new career and have been quite successful. Last year, I received three major awards, including VA Headquarters Engineer of the Year-2014, and the VA Sustainability Achievement Award. None of this would have been possible without VA for Vets. I wanted to share my own story with you, in hopes of inspiring other Vets".
For more information on the services provided by VESO, please contact us at 1-855-824-8387.
+ Required plugins [ Get Viewer Software ]