U.S. Air Force (retired), 21 years
Program Specialist–Career Development and Workforce Management
VACO Office of Nursing Services
Washington, DC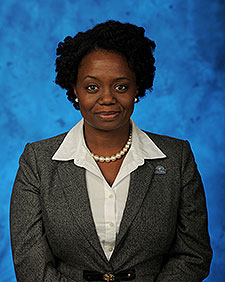 After 21 years in the Air Force, Sonya Harris-Ladjevich was enjoying being ​a graduate student and teaching part-time at a community college. But she wanted a full-time job that provided more stability.
As she began her job search, Sonya faced challenges common to many Veterans. She sent out resumes to the federal and private sector, but did not receive a lot of feedback. "Ninety-nine percent of my interviews were through word of mouth or face-to-face meetings," she said.
Fellow Air Force retirees who worked at VA described a Veteran-friendly environment, which appealed to Sonya. She decided to explore VA career opportunities to see for herself.
Sonya spoke with a Regional Veteran Employment Coordinator who later contacted her about an open position that ma​tched her skills and experience as a recruiter. Now she works as a program specialist in the Office of Nursing Services, which manages recruitment and retention issues for VA nurses nationwide.
Sonya appreciates that VA employs so many staff members who understand the challenges faced by Veterans when joining the civilian workforce. "To work for an organization that advocates for Veterans is special," Sonya said. "In my office, I hear people say over and over again: This is something we need to do for the Veterans… We need to make sure they're taken care of. It's a great feeling."
Today, Sonya is working full-time while finishing up her master's degree in adult education. She appreciates that VA encourages staff to pursue their educational and professional goals. "My [master's] program does not interfere with my time at work," Sonya said. "But if I needed flexibility, [VA] would absolutely support that."
She looks forward to completing her graduate work and using that expertise in her VA career, which gives her a "sense of security and stability."
"I can plan a year or two years out, and I know where I'm going to be working, what I'm going to be doing. That's good stuff."
+ Required plugins [ Get Viewer Software ]