PLEASE SHARE YOUR JOB TITLE AND RESPONSIBILITIES.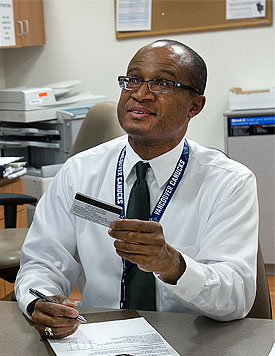 I'm an advanced medical support assistant for the Veterans Health Administration (VHA) within the Department of Veterans Affairs (VA). In that role, I perform scheduling functions for Veteran patients, including appointments, cancellations and re-scheduling. I facilitate communication between Veterans and other VHA facility consult departments. I support several outpatient units with administrative duties and follow-ups, per doctor and service policies and procedures. I'm also responsible for the processing and recordkeeping of outpatient medical records through electronic data-entry processes. Further, I determine health-care eligibility for Veteran patients. Additionally, I perform entry of physician orders and consult requests. 
WHERE ARE YOU LOCATED?
I work at the 1A Specialty Clinics at Audie Murphy Hospital in San Antonio, Texas.
IN WHICH BRANCH OF THE MILITARY DID YOU SERVE, AND WHAT WAS YOUR JOB?
I served 26 years in the Air Force. I started as an administrative support specialist and ended as a client system administrator.
WHERE WERE YOU BORN AND RAISED?
I was born in Colorado Springs, Colorado. I was raised in and call Tacoma, Washington, home.
WHAT DID YOU DO PRIOR TO YOUR JOB AT VA, AND HOW DID YOU MAKE THE TRANSITION TO YOUR CURRENT POSITION?
I left the service in March 2010. From that time, I worked various part-time jobs — as a recreation assistant, and positions at Office Depot and Macy's. Additionally, I was a contractor with PE Systems for 10 months. I worked at Macy's prior to joining VA in February 2015. From February to July 2015, I participated in VA's Vocational Rehabilitation and Employment (VR&E) program, which offers job training, employment opportunities and résumé development for service-disabled Veterans. I was able to adapt and perform to program objectives by participating in the Voluntary Service Office. I also worked in the Voluntary Service Office in the VR&E Non-Paid Work Experience Program (NPWE). I learned a lot about the operations of Audie L. Murphy Memorial Veterans Hospital while serving in the NPWE and as a volunteer. I know the experience I gained while serving in both programs helped me to obtain my current position.
WHAT'S THE MOST REWARDING PART OF YOUR JOB?
"Working the magic" by taking care of patient needs. I enjoy meeting with patients and satisfying their end goal of a successful follow-up appointment. I enjoy taking the patient who thinks there is no tomorrow in the process, and turning that situation into a pleasant experience.  In turn, those patients would remember my customer service the next time they come in to the clinic and feel more at ease with the clinic process.
WHAT ADVICE WOULD YOU OFFER OTHER VETERANS SEEKING CAREERS AT VA?
First, I recommend Veterans explore the VR&E program, which includes non-paid work experience to refine the skills we learn. Second, I suggest Veterans go back to college or pursue other forms of higher education, which will make them stronger job candidates. Serving in the military lays the foundation for a strong work ethic, while adding the refined skills from the VR&E program makes a Veteran post-military competitive. Demonstrating your skills and work ethic during the VR&E program could lead to a job opportunity with VA.
For more information on the services provided by VESO, please contact us at 1-855-824-8387.
+ Required plugins [ Get Viewer Software ]